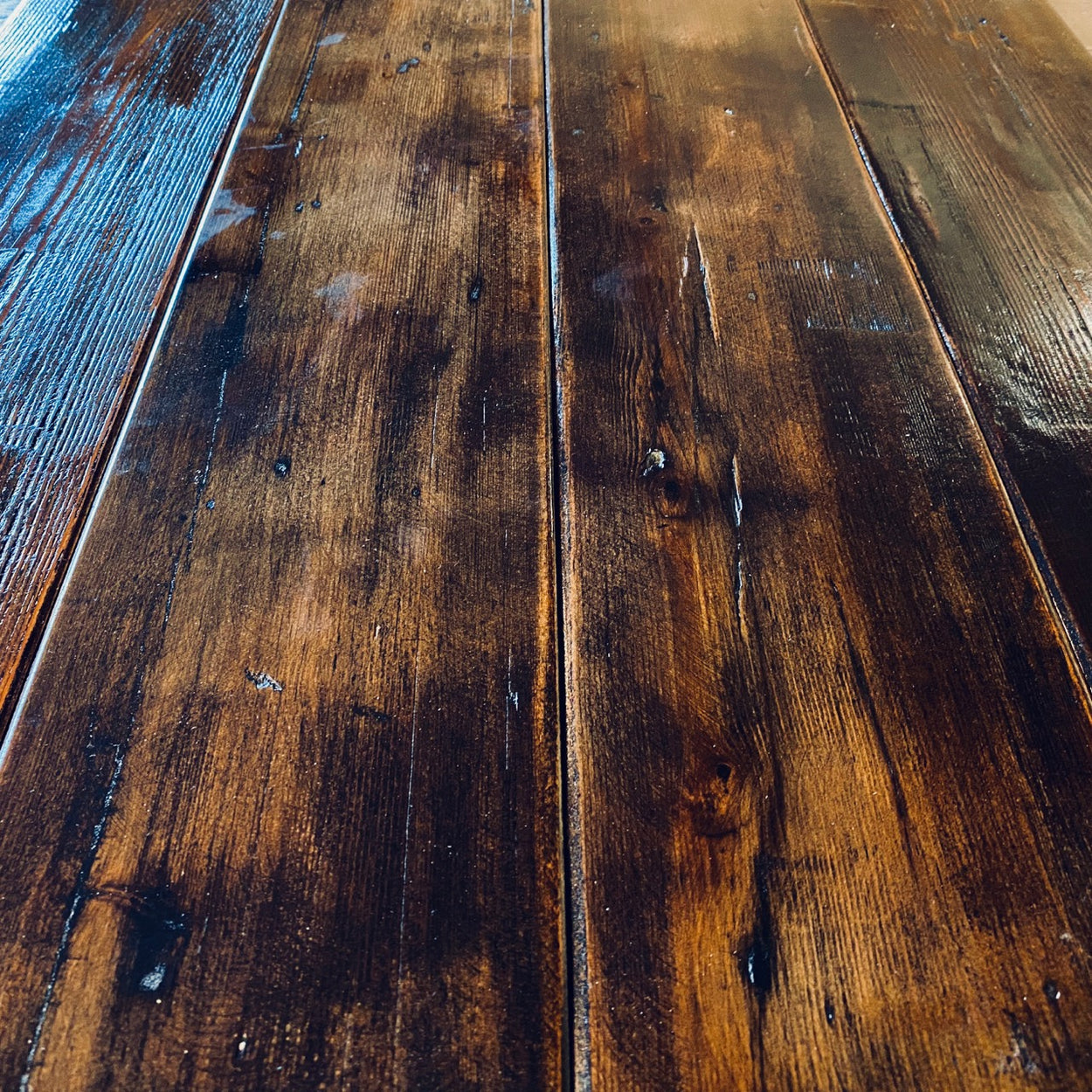 Reclaimed Engine Shed Dark Floorboards
per sqm ex. VAT
Our reclaimed Engine Shed Dark floorboards are available in engineered format. Hand sanded then finished in high gloss made exclusively by Lawsons these are very cool boards. If you are looking for a dark and moody gentlemans club feel then this is the product.. Brimming with original character and charm the high gloss picks up all the natural timeworn undulations these boards have acquired over decades of wear and tear.
Product: Engineered reclaimed pine floorboard.
Surface texture: Hand sanded surface
Engineered wear layer: 6mm reclaimed pine.
Engineered backing: FSC or PEFC sustainably sourced ply.  
Width: Approximately 145mm.
length: Approximately 2.3m.
Thickness: 21mm
Holes: Yes - larger ones will be filled.
Cracks: Yes - larger ones will be filled.
Finish: Exclusive to Lawsons gloss flooring 
Colour variation: Yes, typical with reclaimed timber.
Joint detail: Hand-worked tongue and groove. 
Fixing methods: Guidlines Only
Solid boards must be face fixed into joists
Fully glue down: Engineered only
Face nail or secret nail: Yes
Float: No
Use over under floor heating: Engineered only, check with UFH manufacturer's guidelines
Setup costs There is no minimum order amount and setup is free for orders over 20sqm.
£150 setup fee applies for orders between 11 and 20sqm
£300 setup fee applies for orders under 10sqm
Delivery Can be arranged nationally and internationally.